Udaipur city is one of the major attraction of India for domestic as well as international tourists. For a long time, many foreign celebrities come to Udaipur and take beautiful moments of their life by making memories. Along with that,  Udaipur is a very nice and captivating city not only for the wealthy but also for the common man to spend holidays. Today the number of hotels in Udaipur is more than 1000 and in all these, Hotel Royal Dejere leaves its own mark. Hotel Royal Dezire has its own status on the list of budget and cheap hotels in Udaipur. Where the people of the country and abroad choose a hotel in the vicinity of the budget hotel, where they have to face only problems, Hotel Royal Dezire not only gives them the best Room Accommodation in Udaipur, delicious food, best room service and much more at the same price but also it provides a memorable stay in Udaipur.
The historic city of Udaipur, also known as "LAKE CITY", "VENICE OF EAST", and "KASHMIR OF RAJASTHAN", Hotel Royal Dezire is one of the best class hotels in this beautiful city. A beautiful 3-star hotel situated in the heart of the city where you also get a grand arrival with all amenities, our hotel just steps away from Udaipur bus stand and 5 minutes away from the railway station. Hotel Royal Dezire is the best and nearest hotel for visitors to Udaipur which gives them the best facilities in a low budget.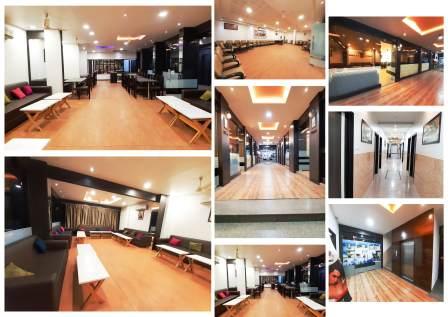 How Much We Are Near To The Udaipur's Historic Place –
GULAB BAGH – Hotel Royal Dezire is known as the best budget hotel in the middle of Udaipur, Our hotel is only 5 minutes away from Gulab Bagh (Rose Garden) also know as SAJJAN NIVAS GARDEN, which is called the Oxygen Factory of Udaipur. Due to which it is also called the best budget hotel near Gulab Bagh.
CITY PALACE UDAIPUR– Hotel Royal Dezire provides the best view of CITY PALACE, Udaipur from Its Rooftop Restaurant, In Udaipur many visitors are looking for the best hotel having a rooftop restaurant with a mesmerizing view of Udaipur's City Palace, Hills and many more.
LAKE PICHOLA – Udaipur is a city that is situated on the banks of a beautiful lake Pichola. Currently, Pichola is the nearest lake to the Hotel Royal Dezire, with only 1.2 km from Hotel Royal Dezire, there is no need to reach because there is a lot of antique handicrafts shop, from the hotel to the Lake Pichola. Small temples and many more shopping shops make your trip more memorable.
BAGOR KI HAVELI – One of the famous attractions of Udaipur, Bagore Ki Haveli is a haveli that stands magnificently on the waterfront of the surreal Lake Pichola at Gangor Ghat. Bagore Ki Haveli has been restored over the period of time and is now converted into a museum. Hotel Royal Dezire is also the nearest Budget Hotel to bagor ki haveli, This Museum is just 10 minutes away from the Hotel.
If someone is looking for the best budget Hotel in Udaipur, the number of hotels are coming in the list but out of the Hotel Royal Dezire is the most popular as 3-Star hotel at cheap price in Udaipur. Thoughtfully designed and spacious deluxe rooms exude fine attention to detail combined with contemporary style Perfect for couples and families, our contemporary-styled hotel offers unique hospitality and comfort.